*ENGLISH BIO WILL BE UPDATED*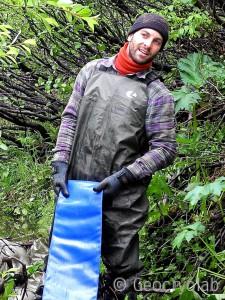 David Banville
Director : Richard Fortier
Codirector : Daniel Fortier
Primary Address
Department of Geology and Geological Engineering
Adrien-Pouliot Building, Room 3750
Université Laval
1065 avenue de la Médecine
Québec, Qc, Canada, G1V0A6
Phone: (418) 656-2131 ext. 7962
Email: david.banville2712@gmail.com

Project Title
Cryohydrogeophysical study of a small watershed in the discontinuous permafrost zone near Umiujuaq, Northern Quebec, using transient electromagnetic soundings.
Description of the project research
Les objectifs du projet sont:  1) Développer une approche géophysique d'imagerie de conductivité électrique tridimensionnelle, à haute résolution et à déploiement rapide, capable de couvrir un grand territoire à l'échelle d'un bassin versant en peu de temps. La technique sera basée sur une méthode d'induction électromagnétique dans le domaine transitoire.
2) Réaliser un levé hydrogéophysique selon l'approche précédente dans un petit bassin versant en zone de pergélisol discontinu près de la communauté Inuit d'Umiujaq et recueillir des informations hydrogéologiques et géotechniques complémentaires nécessaires à l'interprétation des résultats du levé.
3) À partir des données hydrogéophysiques, créer un modèle conceptuel hydrogéologique tridimensionnel du bassin versant pour alimenter un modèle numérique de l'écoulement de l'eau souterraine dans un environnement pergélisolé. Ces simulations seront basées sur différents scénarios de changements climatiques pour anticiper les impacts de ces changements sur le dégel du pergélisol, la recharge d'un aquifère en régions froides et l'écoulement de l'eau souterraine.
Keywords
Hydrogéologie, Géotechnique Géophysique, Instrumentation
Scholarships and other awards
2013 : Bourse de recherche interdisciplinaire d'Enviro-Nord 
Affiliations
Centre d'études nordiques (CEN)
ArcticNet
Ce message est également disponible en : French